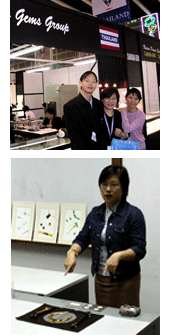 WHO AM I? My name is Li Ching (nickname: Leach) and I love gemstones! As a child, I remember how I treasured my tiny glass foilbacks and how they seemed to hold little pieces of a rainbow when I looked inside their glittering facets. It was like peering into a parallel world. Now, when I see a beautiful gemstone, I am truly in awe of the natural forces that created it and how extremely rare it is in this universe.
In 2000, I moved to Bangkok, the Gemstone Capital of Asia. It seemed only natural that I learn about gemstones from the oldest and most established gem school in Southeast Asia - The Asian Institute of Gemological Sciences (AIGS). Founded in 1978, the AIGS is alma mater to some of gemology's greatest names. After I graduated with my Accredited Gemologist Diploma, I joined AIGS. I was subsequently made the Institute's Laboratory Instructor and "Colored Stone Grading and Appraisal" Instructor. I have also had training in lapidary arts (gemstone cutting), jewelry wax carving, and jewelry design. In 2007, I returned to Singapore and am now engaged in part-time work and private consultation.
Living in Bangkok and working in this field, almost all my friends are in the gem industry. Some of them are brand-name gemologists, some gem dealers, some own mines, some are brokers, some designers and others, craftsmen and manufacturers. What does this mean? Not only do I have links to almost every area of the gemstone industry, I have special access to some of the finest gemstones available in town.
WHAT DO I DO? Because of my unique position, I am able to offer an exclusive procurement service to clients who are seeking fine quality colored gemstones and jades. As my expertise is in colored stone grading and appraisal, I also provide complimentary consultation, informal appraisal services and lessons on how to buy fine colored stones. My client profile typically includes successful individuals, ladies-who-lunch, private jewelers, gemstone collectors, as well as colored gemstone hobbyists and jade enthusiasts.
WHY AM I DIFFERENT? Above all else, I am a Gemologist and an Educator first. And since being a sales person is the last thing on my agenda, you can trust my knowledge and personal opinion about every stone I present to you and there is absolutely zero obligation to buy.
HOW DOES THIS WORK?
Singapore
My services are by appointment only. Call me (Tel: +65 9889 1628) or email me (leach at leachdesigns dot com) for a complimentary consultation and/or a preliminary discussion about your interests. I can then make arrangements to visit you at your home or office or hotel, or send you more information via email.
International
While I still believe it is best to see gemstones in person, I have worked successfully with many overseas clients via the internet and email. * I accept payment by paypal and bank transfers to accounts in Singapore, Bangkok, Hong Kong or China.
* Buyers should be aware that there will always be some variation between the representation of the stone in photos, and the actual stone itself. However, I think that the degree of variation can be kept to an acceptable level using high resolution photos and a neutral color temperature setting on the PC monitor.